---
In music, 3.5 minutes is a long time; it's long enough to find love, lose love, perhaps even find a new love. Nothing nearly as exciting happens in the 3.5 minutes I nervously wait for my call to connect to Jimmy Barnes.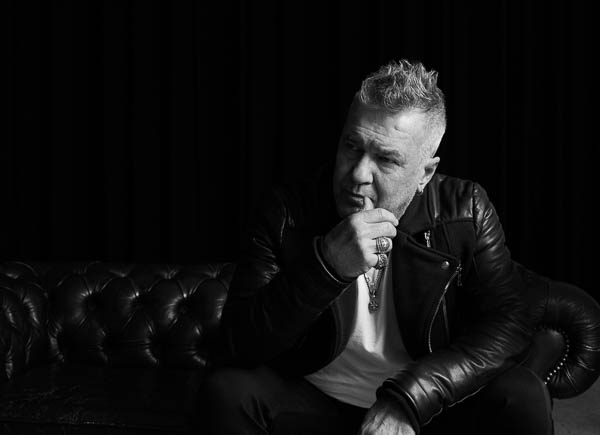 When we do connect, he's basking in the Australian sun and despite the dismal 15 degrees we've got in Christchurch, it doesn't dampen his excitement about crossing the ditch for his upcoming Shutting Down Your Town Tour, which reaches our city on Thursday 26 September. He'll be playing all his classic hits – and there's a lot of them – plus highlights from his acclaimed new album, My Criminal Record, which was released on Friday 31 May. "I always have a great time coming to New Zealand," Jimmy says. "I've been touring there since 1975 and I look forward to getting back there."
It's also the first rock and roll album he turned his talented hand to in 10 years. "I've done a Greatest Hits, two books and I do what I do, but what I enjoy the most is making rock and roll. So I'm really excited."
Born James Dixon in central Glasgow, Scotland in 1956 before moving to Australia as a five year old, 'Barnesy' kicked off his career with Australian rock band Cold Chisel in the 1970s. But the Jimmy of today is a far cry from the Jimmy of 50 years ago. For one, the rocker who was widely believed to drink more than two bottles of vodka a day, much of it during performances, now only takes to the stage under the influence of honey and water!
But if demons were inspiration to be transformed into music, then Jimmy's had plenty to share around – enough to fill five decades of material. And while the demons are still there, it seems now he's made peace with them. After candidly opening himself up in his two best-selling personal memoirs, Working Class Boy (2016) and Working Class Man (2017) – both of which won the prestigious Australian Book Industry Award – it would be easy to think that you knew everything there is to know about James Dixon (Jimmy) Barnes.
In the early years, there was the abuse, the neglect, the poverty and the family's alcoholism. In the later years there was the partying, the drugs, the alcohol and, heartbreakingly, the eventual suicide attempt. When Working Class Man was released in 2017, David Free from The Australian described it as a sequel "in the fullest sense of the word".
"Read this one by itself and you will find yourself looking at a cliche: the self-destructive rock star. But the first book lets you know, in pitiless detail, exactly what the self-destroyer was out to destroy. The adult who behaved like a child is explained, in large part, by the child who had to behave like an adult." And although the 'broken' Jimmy makes up a big part of this 'new' Jimmy, he's not letting it define him.
Getting professional help has been "vital" to his recovery, he tells me. "I think that the perfect way would be to alleviate the social problems – the violence, the abuse, the promiscuity, the drugs, the alcohol – that kids are exposed to. But if they are exposed, people think they can deal with it on their own. For me, seeing a therapist once or twice a week has saved my life. If I didn't, I wouldn't have made it."
Jimmy has done a lot of work on himself to get to this point – not just to stare down his demons, but to understand them. It's by sheer miracle he escaped the trauma of his childhood, but he reflects that perhaps he didn't escape it at all; maybe it's still there, in his heart. The earliest of his new music was written at the same time as he was writing his memoirs and, although the music is tinged with the trauma of a difficult childhood, it comes from a different place now.
Because although he's been writing about these experiences for years, now that he understands his demons, he's been able to write about them from a completely unique perspective; he's eschewed the blame and been able to write objectively. He's even "cleared stuff that was killing me". The first lines of the new album – the title track – set the tone for this more understanding Jimmy: "Well I came from a broken home. My mama had a broken heart. And even though she tried to fight it; it was broken from the start."
"One thing I've learnt is that no matter what you do or who you are, you have the same demons, the same background, the same troubles," he explains. "It's about how you cope with it." While Working Class Boy and Working Class Man allowed Jimmy to get his story out in hundreds of pages of raw, riveting prose, My Criminal Record does it in around 50 minutes of brawling rock and roll and it's been described as "one of his finest ever albums".
Family too, have played an integral role in keeping him on the straight and narrow. Wife Jane Mahoney – the daughter of an Australian diplomat who famously left Jimmy and his heady rock'n'roll lifestyle, earning herself a starring role in the song Rising Sun – and their children sing together and play together. "I have thirteen grandchildren now," Jimmy says.
"Family and music are entwined for me. They help with my sanity; they're the ones that keep me going." Jimmy's life has been a rollercoaster ride from the start. But there's little doubting that he's at the top of the carnival ride right now – and he plans on staying there!
---