---
Ourvets Halswell has for many years been running a very successful Puppy Preschool and for the past seven years, this has been run by their Senior Veterinary Nurse, Jessica Blackwood.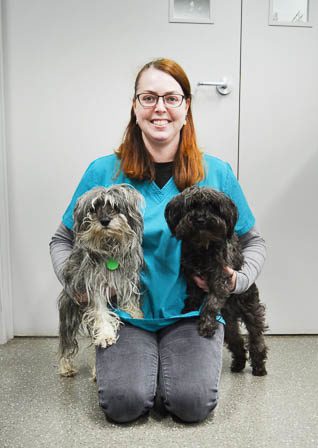 Jessica's background in 'Obedience training and Rally-O' and being the owner of two mini schnauzers, Apple and Echo, makes her the perfect person to help the owners of new fur babies understand the basic needs and training for their new puppy.
Jessica's classes go over in depth:
Toilet training
Vaccinations
Desexing
Basic manners: sit, stay, down, and for fast learners, the 'commando crawl'
Handling and grooming
Nutrition and preventative care
One of the key benefits of puppy preschool is socialisation with other dogs. The best time for this is between 8 and 12 weeks of age, as this is a very important time in a puppy's brain development. By socialising with other puppies that are of a similar age, they learn – in a safe and controlled environment – the basics of how to interact with each other and understand dog behaviours they will soon be exposed to in the future (in the real world!). Puppies need to have at least one vaccination in order to attend puppy preschool. These should be given at the ages of 8, 12 and 16 weeks to be fully vaccinated and yearly thereafter.
Recent Puppy graduate, Ben and his owner Sarah, gave the following recommendation to Jessica's Puppy Preschool: "The team at Ourvets have been instrumental throughout every step of Ben's journey. Jessica's leadership in the puppy school programme helped us integrate Ben into family life and ensure from a young age that he could nail the basic commands. The advice we received on teething, chewing, toileting and feeding was invaluable.
"Jessica and the wider Ourvets team went above and beyond to help and ensure that the noise and destruction was kept to a minimum! Whether popping in for a quick bag of food, a routine check, or a weekend emergency, Ben has received the very best care from all Ourvets locations and loves visiting the vet!"
---