---
Everyone needs a place to call their own, including adults. Just a having a corner of a shared bedroom or lounge to read and relax when you need some time out can be of major benefits to your mental health and make sure your relationships continue to be smooth sailing.
If you have a particular interest – such as sailing, for instance – it can be a great starting point for gathering different things as part of a cohesive theme.
Your aim should always be to try and decorate with things that you really love; whether it is objects that have special meaning to you, or simple things you find particularly pleasing to look at. If the colour is all wrong, it is a quick and easy fix with a fresh lick of paint in a hue that better coordinates.
In this lounge, even the accessories have been painted in nautically inspired shades.
Creating the right mood is another key component in a relaxing space, and colour plays a very important role in that. Dark, rich wall and ceiling colours can be easier on the eyes than brights or whites and can send the brain a psychological message, which, in turn, has a physiological effect that tells your body, 'when you're in this room, it's time to wind down.'
This lounge features two similarly inky blue hues: Resene Tangaroa on the tongue-and-groove panelled wall and Resene Indian Ink on the adjacent walls.
Together, they create a cocooning effect while their subtle differences in hue and texture add interest.
Part of getting the mood right in this lounge is making sure that its dark walls are also balanced, which is achieved through the timber flooring finished in Resene Colorwood Mid Greywash.
The rope side table creates further lightness through its sharp contrast with the wall colours while the rich golden hue of the velvet statement armchair acts as a focal point, inviting you to get cosy and stay awhile.
Other colours that look great with inky blue hues like Resene Indian Ink are pale greens like Resene Aspiring, russet browns like Resene Felix and steeped beiges like Resene Tea.
Get inspired at your local Resene ColorShop, www.resene.co.nz/colorshops.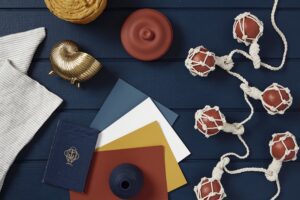 PAINT: Walls in Resene Tangaroa, and Resene Indian Ink; floor in Resene Colorwood Mid Greywash; rope table in Resene Blanc; life preserver wreath in Resene Raging Bull.
FURNISHINGS: Armchair, cushion, shag rug and seagrass pouf all from Nood; mirror and brass shell planter from H&M Home; all other accessories are stylist's own.
---