---
The seemingly unsolvable challenges of adjacent sites were the ultimate inspiration for NZIA shortlisted Hofmans Architects, when designing these two striking homes in their home village of Arrowtown.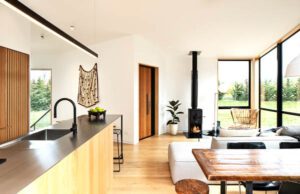 Suitable for a family of five, each home makes the best of the uplifting views and embodies spatially efficient floor areas, while making a virtue of the site restraints.
The finished homes are not simply a visually pleasing counterpoint to an iconic landscape, but express virtuosity in design as well. The very steep slope has a no-build line as the top two-thirds of the site, a schist seam running through the middle of the site and a tight five metre maximum height plane.
These factors demanded an efficient design set within the lower portion of both sites.
The usual 4m separation was successfully reduced to 2m, which allowed the houses to sit independently of each other whilst increasing the buildable area.
By tilting the side wall and dropping the roof pitch of one property, this allowed the other to achieve good winter sun.
"We are always inspired by our local environment and like to use natural materials that sit well in our surroundings," Director Maarten Hofmans says.
"The Chinese miners were masters in using local materials that came to hand and creating shelter in an efficient as possible form – something that we have drawn inspiration from. We strive to achieve simple and easily understood solutions. These homes are two simple sculpted shaped forms that nestle into the hillside."
Corten clads the firewood storage walls and folded cedar wraps the forms, while pushed in recesses define the entry points.
MWH Construction brought the designs to reality and Maarten says, "It was a pleasure to work with MWH, their enthusiasm for a well-executed product always makes us happy as Architects".
Director of MWH, Myles Herschell says, "the aesthetic of this project was a real drawcard for our team – the houses resemble folded cedar origami. Also, the opportunity to work with Hofmans Architects: their creativity, receptiveness to change and solutions is always a pleasure."
The philosophy at MWH is to push boundaries, reinterpret styles and challenge notions of what construction can be. Transparency, adaptability, teamwork plus Myles' own design degree enable MWH to work at the boundaries of architectural inspiration.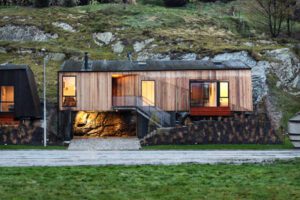 ---