---
Meghan Markle does it, Vogue has given it the tick of approval and now #faceyoga is gaining millions of views on TikTok. So, is this a beauty habit you should be implementing into your routine?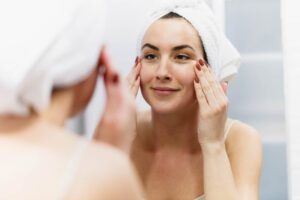 Face yoga uses special facial exercises, stretches and massage techniques to apparently give your facial muscles a workout.
According to Vogue, face yoga helps build stronger facial muscles which in turn helps with facial elasticity, draining excess fluid from your face, reducing puffiness, and tired lines from creeping in.
Who doesn't want to feel like they've been to a masseuse the moment they roll out of bed in the morning or just before going to sleep?
Taking the time to stretch your face may help your skin appear firmer and more supple, as well as give a mental boost via creating a regular mindfulness practice – especially when combined with applying your favourite serum or moisturiser.
You can even try a tool like a gua sha or roller to aid your face yoga and massage.
If you're interested to try face yoga, check out @faceyoga_monna on Instagram, the Face Toned app, or search the #faceyoga hashtag on Instagram, Facebook or even TikTok.
---