---
Forced to reimage dance in a contactless, Covid-19 world, Switzerland-based Sumner-raised contemporary dancer Emma Murray has been selected for Christchurch-based Movement Art Practice (MAP)'s residency, which will be run and shown digitally for the first time at the end of this month.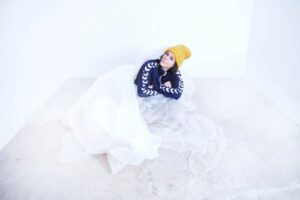 Emma found her feet as a dancer at six-years-old and went on to study at the New Zealand School of Dance, later earning a place at the Royal New Zealand Ballet Company.
She left New Zealand in her early 20s to dance across Europe.
She's recently completed a Masters in Contemporary Art Practice at the Hochschule der Künste in Bern, Switzerland and was selected for the MAP residency by an impressive lineup of Kiwi judges including Cat Ruka, Paul Young and Pelenakeke Brown.
She tells Metropol about her journey as a dancer.
I was attracted early on to the work being made in Europe and the strong traditions of contemporary dance and theater there, despite having a strong classical training.
I left New Zealand in 1997, making my way around Europe auditioning for dance companies in France, Germany, Great Britain, Austria, Switzerland, Belgium, Czech Republic, Holland and Montreal, Canada.
Eventually I found work in a city theater in Innsbruck, Austria and from there, moved to Switzerland where I was engaged as a soloist at the Stadt Theater Bern (now Konzert Theater Bern). That work was some of the most demanding and exciting of my career – not least because during this time I became a mother juggling fulltime dance and childcare.
Developing my own projects has allowed me to diversify my skills in and out of the studio, on and off the stage, as well as straddle various artistic disciplines and work with other artists across cultural divides. I left the Konzert Theater Bern in 2008, and I've continued to travel for performing, residencies or workshops, festivals and teaching engagements.
Probably what I'm most proud of – and in all honesty a little amazed by – is that I'm still doing it! Still performing and making work, still engaged on projects – my own and with others – and still finding the funding to do it.
Because of Covid-19, artists have been quick to look for alternatives or solutions. For me, a drop in productivity (the closure of theaters, postponement or cancellation of festivals and performances) has meant more time for reflection and practice.
The MAP Research Exchange programme offers me an opportunity to re-think performance in the digital sphere and explore tactile possibilities for working with multi-media. I'll be doing this alongside the critical theorist Giulia Palladini. I am looking to bring alive a conversation between written text and the body, the body and digital technology, digital technology and performing an archive.
Watch the three winning residencies broadcast their projects at
www.movementartpractice.org
---