---
There is the saying that 'not all heroes wear capes' but maybe in this case, they can! Be the super mum, colleague, friend or partner that you are and make sure to dress the part because capes are making a comeback in fashion. Suit up, caped crusaders – we check how you can style these statement pieces.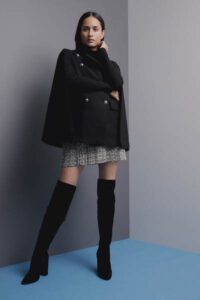 Little Red: Channel your inner fairy-tale fantasy by wearing a hooded cape. We're not suggesting go all out and wear a maxi hooded cape in blood red, but instead maybe a subtle nod to the heroine of our favourite fable.
Cape X Blazer Crossbreed: Everyone loves a blazer; it's a classic classy piece that has been a workplace staple since we can remember. Why not give the cape blazer a try? Give your outfit a bit of a flare… literally.
Dress ups: It's sometimes easy to walk out of the door and forget to bring a jacket. Avoid that completely this winter by wearing a cape dress to work. Look as if you've just stepped off the runway and into the boardroom.
Snug as a bug: We also have the polar opposite option of wearing a blanket cape (we don't mean – actually wrap a blanket over your shoulders). This piece will look great paired with some knee-high boots. Don't sacrifice being warm for looking fabulous this season.
---