---
From tex-mex chicken to colourful rainbow veg – we've got healthy dinners all wrapped up. It's time to liven up your dinner plate and lunchbox with some inspired wrap fillings.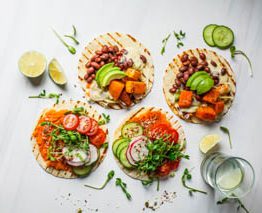 SPICY VEGETABLE AND PANEER WRAPS: Master Chef Gordon Ramsay turned his talented hand to creating this tasty Indian street food inspired wrap, packed with creamy paneer cheese and chopped vegetables cooked with Indian herbs and spices.
---
GREEK FETA CHEESE SANDWICH WRAP: It might just be time to say "Opa!" to this yummy and nutritious vegetarian wrap, which takes its delicious inspiration from Greece, with tangy feta, juicy black olives and saucy marinated veges.
---
RAW FOOD BURRITOS: Want a guilt-free option? Why not give lettuce wraps the burrito treatment with coriander, lime juice, and jalapeño peppers. Avocado, tomato and corn round out these super healthy, gluten-free and vegan raw foods.
---
TEX-MEX CHICKEN QUINOA SALAD WRAPS: Quinoa, beans and chicken make for the perfect protein trifecta. Remember, protein is filling – so you won't be reaching for the
potato chips a few hours later.
---
PEANUT CHICKEN WRAPS: These easy, peanut chicken wraps are a simple and healthy lunch recipe. Use soft flour tortillas and fill with seasoned chicken, crunchy coleslaw and peanuts topped with a slightly spicy, homemade sauce.
---