---
A decked out entertaining space is the ultimate way to enjoy a Kiwi summer. We've got all the tips and tricks to get you there.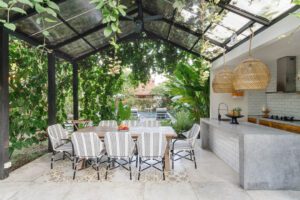 DECKED OUT
A deck that is flush with your interior living space is the ultimate way to create indoor outdoor flow and make your backyard feel more spacious; run your timber horizontally if your space is narrow or create multi-levels to break the space up.
FIRED UP
New Zealand is renowned for its "four seasons in one day" but with a little forward planning you can enjoy your garden year-round. Try an electric radiant, gas heater or an outdoor fireplace to make a cosy focal point.
ZONED OUT
While interior designers have long espoused the importance of creating 'zones', it's equally important when it comes to your exterior spaces. Use materials, screens and planters to break up your space, making it feel deliberate and considered.
COVER UP
They say to prepare for the worst and when it comes to Kiwi weather, that's certainly an apt expression. Invest in a shade sail or clear polycarbonate roofing, or, louvre roofing gives you all the options.
LIGHTING THE WAY
Lighting is about function as well as form. There's something for everyone, from solar lights and little lanterns to festoon lights and long string lights, just ensure any cooking and eating spaces have ample visibility.
HOMEWARE HIDEAWAY
Exterior space uncovered? Hidden storage bench seats or treasure chests that double as tables are great for storing pillows, squabs, seat covers and utensils, or select options that can be left in the elements.
SOFT IS STYLISH
Don't be afraid to add soft furnishings – beyond a canvas covered squab – to your outdoor areas. Throws, cushions, bean bags and ottomans can all be included in hardwearing, durable fabrics for added comfort – and a little bit of luxe.
INDOOR OUTDOOR FLOW
Styling an outdoor space should have the same considerations as would apply indoors. Stick to a complementary colour palette, layer with patterns and materials to create texture – and which expresses your individual style.
---