---
When Twilight became a hit, so too did the husky dog breed. By the time Game of Thrones hit our screens, Siberian huskies, Alaskan malamutes and other 'wolf'-like breeds and crossbreeds had been cemented as the 'it' dogs for 15 to 25-year olds. It's Michelle Attwood and her Husky Rescue NZ team who are picking up the pieces.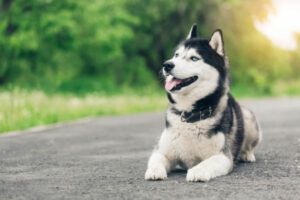 The Christchurch-based charity has spent the last 11 years rehabilitating and rehoming the huskies – one of the most rehomed breeds of dog in New Zealand.
"As soon as we thought 'yay no more Game of Thrones' we got Togo on Disney Plus and The Call of the Wild," Michelle says.
"Hit movies made them popular, but Facebook marketing and the ability to market these dogs online made the perfect storm."
Because, as beautiful and loveable as huskies are, they are also strong-willed, independent and high-maintenance.
They not only need strong discipline, a well fenced backyard and plenty of exercise, but there's also a dense dual coat to deal with.
Some of them are like naughty school children and some of them just tear you apart when they leave, Michelle says.
A previous arrival weighed just 7kg. "We had to fatten her up to 13kg just to be able to transport her to our main base," Michelle says.
"She's now 18kg and went to an amazing home recently. There were a lot of tears!"
Handing the dogs over to their forever homes is the most fulfilling part of what Michelle does. A family that adopted one of the very first dogs in Michelle's care recently adopted another one and it's people like this that become like family.
"Getting stories and pictures from people is awesome; seeing the dogs playing in the snow or curled up in front of their new fireplace is just the best feeling."
Established by Michelle in 2009 when she became aware of the sheer number of unwanted or abandoned huskies, Husky Rescue NZ takes in surrendered or abandoned huskies, assesses their health and suitability for re-homing before arranging for them to be de-sexed, vaccinated and micro chipped.
The team then works tirelessly to ensure the dogs find their forever home with someone who is aware of what's required to look after this majestic breed.
But all of this comes at a cost – approximately $380,000 per year (pre-COVID-19). The charity previously relied on income from public events and educational activities to meet their funding requirements and until recently, plans were in place to further development their recently leased premises in Rolleston.
But the impact of COVID has not only put paid to those plans, it's put the future of the charity in question.
When COVID hit, there were 67 dogs in their care and the charity lost all of its income.
"We've never had to rely on donations, we financed it ourselves, but suddenly there was only donations.
"The public did try to help, for which we are forever grateful, but we haven't reached our goal and we may have to close our big South Island base. The reality is, without a very large injection of funding, we will have to drop back substantially. We're hoping to not have to close, but bulk funding is now urgent," Michelle says.
"At the moment, the future is looking very bleak."
To help Husky Rescue NZ, text HUSKY to 833 to make an instant $3 donation, find them on Givealittle, or visit the website below to find out how you can help. Corporate donations and sponsorships will be welcomed.
---