---
Following in her parents' footsteps, Gabby Stockman was born to excel in the building process.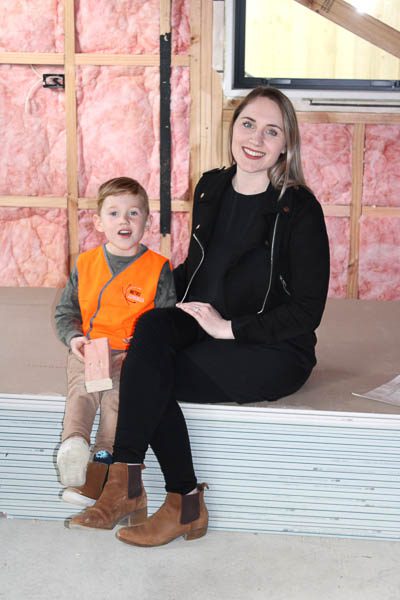 As the youngest daughter of Christchurch property developer Shaun Stockman, the 25-year-old is raising a family, while stamping her own imprint on the city's rebuild.
Her dad is central to many exciting CBD developments – a character with inciteful ideas and infamous pointy shoes. "He's cool and quirky, and can have a good laugh. He's a big part of my life and between Shaun, Nigel and Julie there is a deep wealth of experience available to me."
Her mum and stepdad, Julie and Nigel Lundy, own Metro Advances Ltd – with Gabby being one of their irreplaceable project managers. She gave birth to Isabelle, now two months old, a fortnight before the company's latest townhouses were completed, remaining invested until the end – her project just as much her babies were!
As an Avonside Girls student, she had a tourism career in sight and completed her Diploma in Business. This was put to great use in converting and expanding Metro's Southwark Apartments building in the CBD to visitor accommodation following the earthquake; a business she started from the ground up in her late teens. However, the creative buzz with property projects remains her passion and her real calling was obvious.
While officially on a break, Gabby admits, "it's very hard to tear myself away".
Her four-year-old Jack attends Learning Curves Montessori preschool – as will his little sister next year.
Gabby is grateful for her close, supportive family. Where does work-life stop and family-life start? "It doesn't," Gabby laughs.
"We are always discussing work around the family dinner table. But we love it."
It's a family affair, with her two sisters, brother, step-brother and uncles in the industry too, and husband Jericho is her other half in more ways than one. "He's my right-hand man and is responsible for the workers on site. We have a smooth-operating partnership; I can't remember when we last had a fight!"
Tradesmen, friends and family will often ring Gabby up for her savvy design advice. "Functionality is key. I like to step it up and invest in quality. I love bathrooms and search out Australian designers for trends, and also choose luxurious tapware, vanities, baths and showers. Landscaping is my other love and I sometimes get told off for going over budget. It's hard not to – we are the Garden City! Budgets can be a frustration but the skill is in the compromising."
Gabby started out with post-earthquake bungalow renovations, but now leans towards Scandinavian style. She cites good organisation and being available for her team as her strengths.
To de-stress, the busy mum's advice is to take a deep breath, sit down and eat and drink something. "With so many trades being involved, you need to go away and investigate before jumping to conclusions if things go wrong," Gabby says. "If something is leaking, it's not necessarily the plumber!"
The couple live in Julie and Nigel's CBD pad while they build their own home.
"The city is fantastic, I love strolling down Victoria Street and we have a yearly family tram pass. It's important to create projects that entice people into the city.
As to when the hard hat is back on, "I'm keeping it open and just going with the flow".
---