---
Suits are head-turning, confidence-creating and fabulously flattering – and have now relaxed into an exciting wardrobe staple. We check out the hottest suit styles for the coming season, to take us into 2020.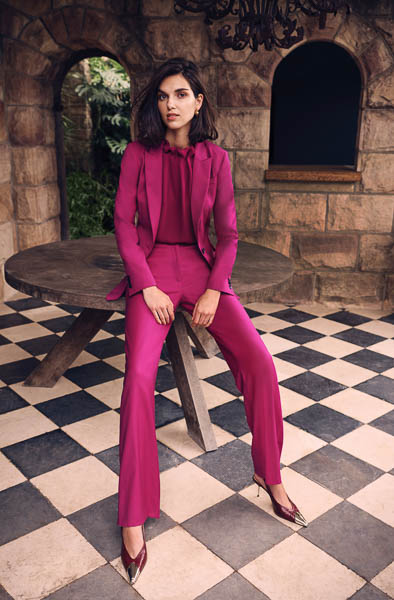 While women once minced in demure pencil-skirt and jackets of the 1930s and 40s, this season's trouser suits are taking bigger, bolder strides leading into the next decade.
Anything goes in the material stakes. Ice-cream coloured pastels are a delicious summery wardrobe treat, while on the other end of the fabric spectrum, tweeds are teaming up as dapper trouser suits for dames. Everything goes, from slippery velvets, breathable summer-weight silk, perhaps black and white in a stylish wool-blend, hot fuchsia in cool linen, or metallic in modal. Suits make a unique statement.
Individual personality this season takes the suit far, far away from any corporate connotations – it's all about suiting up and owning your own style. Celebrities from Michelle Obama to our royal influencers are flaunting floral-bombed patterning to gorgeous blocks of colours and timeless neutrals. In cute or courageous original outfits – the cue is to make your own mark.
Wide pants are swishy, slouchy comfort to the max – quite the opposite to what you'd expect to feel in the usual tailored two-piece. Go high-waisted and wide-legged from the hip, or do a glam Charlie's Angel-style '70s flare from the knee. Larger jackets have lots of wiggle room with full-on sleeves still a big fave. Teamed with high-rise heels or chunky flats – this look is quick to transform from daytime to drinks-time at the flick of a heel.
Cinched in via a wide tied belt or beautiful tailoring to show off the waist, a suit jacket adds flattering femininity. But equally so, the baggier, edgy boyfriend blazer will be strutting most of our streets, paired with perfectly matching pants. Structured shoulders are invited to team up with slouchy-crotched trousers. Tiny fitted tops are tasteful under long languid jackets; juxtaposition is, after all, hip.
Flattering for every figure, suits suit most bods. The silhouette-slinking sameness will elongate the shorter stature, and jackets and pants can be made to skim over or figure-hug any feature. No matter how casual the suit is stitched up, the wearer will always look somewhat polished and purposely dressed. Don't forget, a tailor can alter any part of an otherwise perfect suit. Think about buying a suit that will look good with most of your summer shirts.
Emulate a dramatic three-piece with a matching coloured top. Plunging necklines also render a sassy suit, creating a sizzling contender to the little black dress.
And worth every penny is the suit's sassy versatility in all weathers. Throw the jacket over the back of a chair and you instantly have a cooler, different look. There's no need to find that co-ordinating summer jacket either – phew. It's really a great two-in-one investment!