---
Delta Goodrem once told us she was, Born to Try. But to describe what this powerhouse performer has been able to achieve as simply 'try' would most certainly sell her short. Named after the Joe Cocker song Delta Lady, it seem Delta wasn't Born to Try; she was born to sing.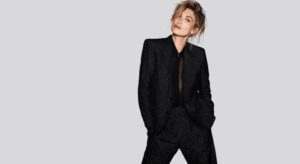 "It was something that in my heart I knew was what I wanted to do," she says of the career which will bring her to New Zealand next year for her Bridge Over Troubled Dreams Tour.
"Truthfully it was a feeling I had. My parents were so incredibly supportive of my dream."
At the age of thirteen, Goodrem recorded a five-song demo CD, financed through TV commercials and minor roles in several Australian series.
Long story short, it secured her a record deal with Empire Records. But it was her role as shy school girl and aspiring singer Nina Tucker on Neighbours which made her a household name, launching her music career.
"I was so lucky to have had my parents. Nobody knew anyone in the industry; I was just a kid that wrote songs from what I was seeing in the world!"
Goodrem's first ever headline tour of New Zealand will commence on 22 April 2021 at Wellington's Michael Fowler Centre, before moving to Auckland's Kiri Te Kanawa Theatre on 23 April and hitting the Christchurch Town Hall on 24 April.
"There's nothing like being on tour and being with people face to face and to share in the magic of live music," says Goodrem, who is heavily involved creating her shows.
"From day one when I started making music, it was important to me that the overall feeling had to come from my heart; being authentic is what people respond to and I deeply love putting on shows. Nothing gets me more excited than creating a world for everyone to come to.
"Visually, I love to make sure a tour represents the energy of what this new album embodies. There are going to be incredible musical moments in bringing to life the surprise elements of this new album and all of the favourites from my previous records. Anyone who has been to my shows knows that I like to have a lot of fun and this record and tour is no different."
The singer-songwriter who has been in self-lockdown in Sydney also recognises the opportunity for fans to let loose. "I know many people are going through challenging times right now; come next year I want to invigorate and empower everybody in the room to have the best night of their lives and we'll sing and dance through it all."
It's also an opportunity to allow her fans to connect with her new music and reminisce over the old – the 'old' including 17 Top 10 hits, four number one albums and selling more than nine million records worldwide.
The 'new' includes Let It Rain, released in January as Australia battled devastating bushfires, with proceeds donated to bushfire relief.
Keep Climbing was released in her social media Bunkerdown sessions in May.
"I'd like this song to remind people to not be afraid to find the strength when they feel stuck between where they are and where they want to go," Goodrem explains.
"To find that part in you to keep climbing and to continue to believe that it will lead you to that next moment in your life."
Continuing to let the music do the talking, she released Paralyzed on the grand finale of The Voice Australia 2020; a narrative of when your whole world stops and has to be reset.
"Sometimes we are forced to take the difficult cards we are dealt with in life, in our stride. Of course it's a personal song, but it's there for everyone who is asking themselves for patience and a chance to stop and rewind," she says.
Forming what she describes as her "new era of music", she's since come to realise the powerful lyrics mean something unique to everyone. "So many people have experienced it."
Seemingly busier than ever during lockdown, Goodrem has also been undertaking highly-acclaimed performances for global event One World: Together At Home and Music From The Home Front where she shone as one of four hosts, delivering a show-stopping duet rendition of the Men At Work classic Down Under with Colin Hay.
But a project that is even closer to her heart has been the launch of the Delta Goodrem Foundation, in partnership with St Vincent's Hospital in Sydney.
Established to help fund medical research into blood cancers and autoimmune disease, the foundation stands in recognition of her own health battle – one with Hodgkin's lymphoma when she was just 18.
"I think [that experience] cemented for me that health is the most important thing," Goodrem says.
"And also the understanding that someone is going through that fight right now; you don't know what someone is going through. Part of my DNA is this huge empathy and compassion for someone's journey.
"Being able to talk to people as a survivor is a real privilege."
But it is perhaps the establishment of the foundation which has been the biggest takeaway for her and $1 + GST from every ticket purchased for the Bridge Over Troubled Dreams Tour will be going to support the foundation's work.
So what do the next 12 months have in store for this powerhouse performer?
"Hopefully lots and lots of new music, I'll be continuing to bring out new songs and heading out on tour see you in person. I'm truly looking forward to it."
She may be Australia's sweetheart, but she might soon be ours too.
METROPOL HAS ONE DOUBLE PASS TO GIVE AWAY TO DELTA'S CHRISTCHURCH SHOW! TO ENTER, HEAD TO OUR FACEBOOK PAGE AND FOLLOW THE INSTRUCTIONS
---