---
Tautahi is the name of the Māori chief after whom our city of Christchurch takes its name. In his time, children played on the banks of the Avon (Ōtākaro) River as their elders gathered food (mahinga kai). It is this connection with the city's Māori heritage that is central to the mission of the twin companies – Ōtākaro Design and Build and Ngātahi Real Estate.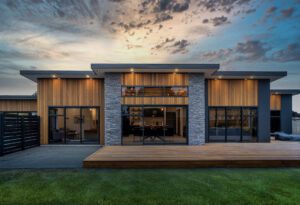 "Our two companies were established to create beautiful real estate together," says designer and salesperson Kian Clements-Ormond, who co-owns Ōtākaro with Calvin Kent.
"Calvin oversees the construction side of the business," says Kian. "And although we are relatively new to the market, in that short time we have both gained a real understanding of what clients want in their homes. In particular that is spacious open plan living designed for the sun and seamlessly linking to the outdoors."
So attractive to buyers have Ōtākaro's homes proved that the company has over thirty houses either already under construction or about to be built.
"If you don't design liveable, workable spaces, houses will not sell."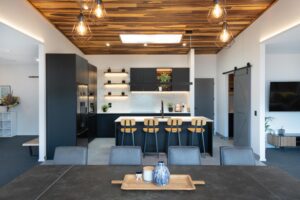 In keeping with the company's distinctive brand and Kian's own tribal links, each house design has a significant Māori name. Tamahine (daughter), Timatanga (beginning), Piwari (to be beautiful) and Tuahine (sisterhood) are just some special examples.
Clients are free to make changes to the designs to suit their individual lifestyles or they can create a new design at no extra cost.
The use of natural materials – timber and stone – is a constant feature across many of Ōtākaro's designs, as is their strong connection to the land they are sited in.
The company's showhome in Marshlands, open by appointment, is a stunning example of this design philosophy with its cedar and schist exterior cladding, the use of timber internally for ceilings and doors, as well as granite benchtops in the kitchen, laundry and bathrooms.
Stylish botanical-themed wallpapers complete the look in the living areas and bedrooms. The total effect is spectacular.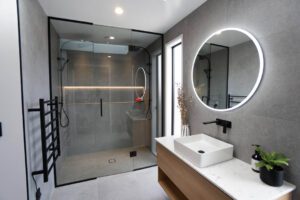 Ōtākaro's homes and house and land packages are marketed exclusively by Ngātahi Real Estate run by Hayden McKenzie. "We aim to show clients how good it is to buy a new home. We believe people like the link we emphasise about our nation's roots, about what New Zealand really is."
You can view many of Ōtākaro Design and Build's homes on the company's Facebook page or on Kian Clements-Ormond – Ngātahi Real Estate Facebook page.
---